San-J
My forte in the kitchen is definitnely baking. If you want homemade breads, biscuits, cakes, biscotti, scones, you name it, if it comes out of the oven, I can rock it out! As a matter of fact, I recently won another recipe contest, but I will share that with you in another post! When it comes to cooking, I need a little help. I am not lying when I say I can burn boiling water, so while I love good food, most I make isn't all that good. What I can do is a good semi-homemade like Sandra Lee.
My family LOVES Asian food, both Chinese, Japanese and even Pho. However, we have to drive 35 minutes to the nearest restaurant that doesn't involve arches, so we go maybe 2 times a year at best. I do cook Chinese at least once a month because I have found it to be something easy to prepare as well as a great way to use up extra chicken or steak. With all the allergies going around at our house, I was thrilled to find out San-J offers a line of yummy sauces that are gluten-free!
I was blessed to try a line of Gluten-free Asian sauces by San-J. I received the Orange Sauce, Sweet and Tangy Sauce, and Asian BBQ sauce.
The children love orange chicken so we used the gluten-free Orange Sauce first. I roasted a chicken in the oven with some Poultry seasoning on it until it was done and falling off the bones.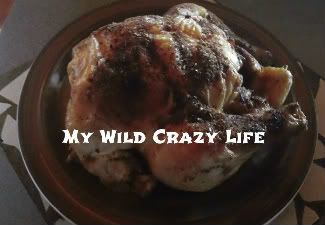 Then I picked the bird getting off all the meat and discarding the skin and fat and pulled it as if I were making pulled barbecue. I steamed some white rice and served the pulled chicken over the rice and topped it with the heated orange sauce. We use more sauce than normal here in the My Wild Crazy Life household because the kids love to eat plain white rice with sauce on it.
This meal was definitely a hit because the kids ate the entire bottle of sauce leaving me just about a TBS of sauce for my own food! It was enough for me to be able to taste how good this sauce is and to be a bit sad they didn't leave me more.
My husband is funny about ribs and insists he is the one who grills them, so although I had ribs on hand, since he has been working a lot of hours, I decided to try the gluten-free Asian Barbecue sauce on pork steaks instead. I figured pork is pork and it would taste fine. Boy was I ever right! This sauce was amazingly good. I think over the years we have gotten used to the commercial BBQ sauces touting so many additives like bourbon, brown sugar, honey, or various spices and smokes that we have forgotten what a true BBQ sauce tastes like. My husband called me from work at midnight to ask me what sauce I put on his chops because it was "slammin!" Again, the kids cleaned out the pork steaks, but this time I was prepared and had hidden one for myself!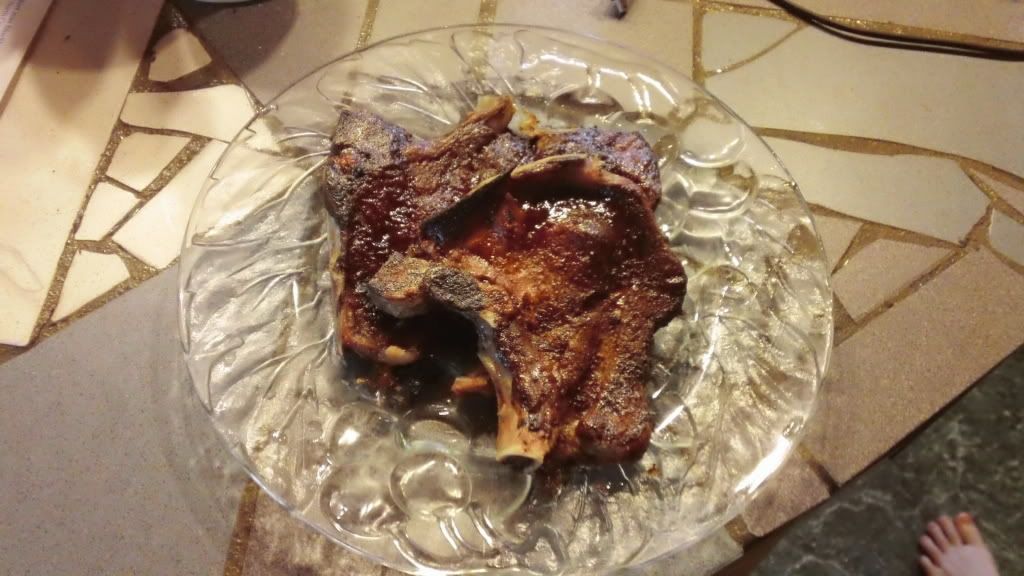 The last sauce, the gluten-free Sweet and Tangy Sauce I decided to Americanize rather than follow the directions on the bottle. It was so unique that I decided to add it to my meatloaf and roll the dice on what the outcome would be. I took two pounds of ground beef, 2 organic free-range eggs, and oatmeal (we use this in place of breadcrumbs here to add nutritional value to the meatloaf) and just the Sweet and Tangy Sauce. Note: normally I add grated veggies, garlic, onion, and a few spices, but I wanted the sauce to shine in this. After I formed the meatloaf, I poured the remainder sauce over the top instead of using ketchup. The meatloaf was really good! It had a sweet flavor that caramelized the edges of the loaf, but was so juicy in the middle. Unfortunately, I have no picture of this one because my dear husband found the meatloaf before I could take a picture of it and let's just say by the time I caught he and the kids there wasn't enough left to take a picture!
The bottom line is these sauces were really great, and I love that even people with Celiacs Disease or gluten sensitivity can still enjoy Asian Food. San-J carries many more items other than the ones I reviewed: Peanut Sauces, Salad Dressings, Soups, and Crackers. I can't wait to try the other selections they offer, and can gladly give them to my children without having to worry about any stomach issues from gluten.
You can read more about them on the
San-J website
and fan them on
Facebook
to stay socially connected with them as well. You can find their products in many of the local markets, and you can see if they are in your area by
utilizing their store finder
.
Disclaimer: Many thanks to San-J for the products I received to facilitate my review. I was not required to write a positive review. The opinions expressed in this review are honest and my own. I am disclosing this in accordance with the Federal Trade Commission's 16 CFR, Part 255. Please do your own due diligence when deciding to purchase!