Artisana Organics
We are not a vegan or meatless family, but I try to incorporate some good protein in my children's diet without having to constantly feed them meat
.
Because of this I use peanut butter and nut butters in a variety of ways including smoothies, sandwiches, cookies, etc.
I was thrilled to have the opportunity to try the Premier Organics brand of a variety of nut butters! Artisana Organics process their nuts in small batches and adhere to stringent regulations. All the nuts, seeds, and coconut meat they use is 100% certified organic and hasn't been exposed to pesticides, chemicals or any gmo's! Additionally they are all-natural with no added sugars, preservatives or artificial flavors which means my family is eating only ingredients that I can pronounce and readily identify!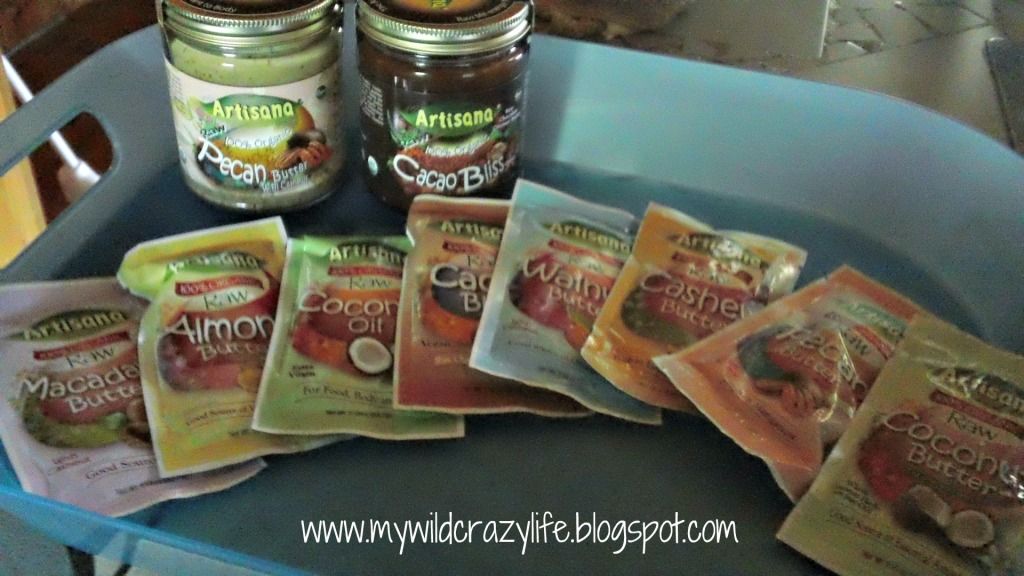 I was blessed to receive a generous package of butters from Premier Organics including: Pecan Butter, Cacao Bliss, Macadamia Butter, Almond Butter, Coconut Oil, Walnut Butter, Cashew Butter, and Coconut Butter. Because we have pecan allergies in the home, I was able to enjoy the pecan butter all by myself! Of course I didn't complain since pecans are my favorite nut. I loved this butter because it wasn't completely smooth, and it tasted just like I was eating a pecan.
The Cacao Bliss was enjoyed by two of my children and myself. Because unprocessed chocolate is rather bitter, and these products are no sugar added, it was a very adult flavor. I simply added a bit of raw honey to the Cacao Bliss sandwiches I made for the children and they ate it right up. After trying their sandwiches I decided it was rather tasty with a hint of honey so I have enjoyed it that way on occasion as well!
The other butters were equally tasty, but all others were very smooth when compared to the pecan butter. Texture aside, each one was like eating the nut itself, including the coconut butter. They were each tasty in their own way and very healthy for us!
I would recommend Artisana Organics to anyone asking, and although they are pricey when compared to plain peanut butter, they are in a class of their own and deserve the price attached! Because they are organic and natural they receive the My Wild Crazy Life Seal of Approval!
Head on over to
Artisana Organics
to read more about their butter varieties and even find a place to purchase them as well! You can also access them on
Facebook
and
Twitter
.
Disclaimer: Many thanks to Artisana Organics for the product I received to try. I was not required to write a positive review. The opinions expressed in this review are honest and my own. I am disclosing this in accordance with the Federal Trade Commission's 16 CFR, Part 255. Please do your own due diligence when deciding to purchase!