Kor Water Vessel Review and Sponsor Spotlight
We drink a lot of water at our home just because of how good it is for the body. I also can't complain about expense when we are drinking water, so it really is a great thing all around. Additionally, my husband likes to take a thermos of water to work so he can drink it when he gets thirsty. We know how refreshing our well water tastes compared to city water, especially with our filter, so he prefers to carry his own in to work.
Kor offers a selection of water vessels to suit almost any need. Their mission is to protect and preserve water because it is a fundamental in life. They help with everything from ocean protection, global water crisis, watershed protection, and container recycling! They give back to various causes, and are just a charitable organization in general.
I received a Kor Aura Hydration Vessel in order to assist with my review. I was very thrilled because it came right at the time my husband received notice that rules at work were changing. They can no longer bring in any restaurant bought food, and their lunch box and water vessel must be clear. The Kor Aura Hydration Vessel definitely meets this requirement.
It comes in clear black, clear pink, clear blue or clear green, holds 750 ml, and is BPA free! It has an ergonomic shape to it so to make it easier for those with arthritis or carpal tunnel, has a hygienic spout so that the area you drink from is always protected by the cap when you aren't drinking from it, and the spout itself is large enough to hold large ice cubes, yet still helps prevent splashing!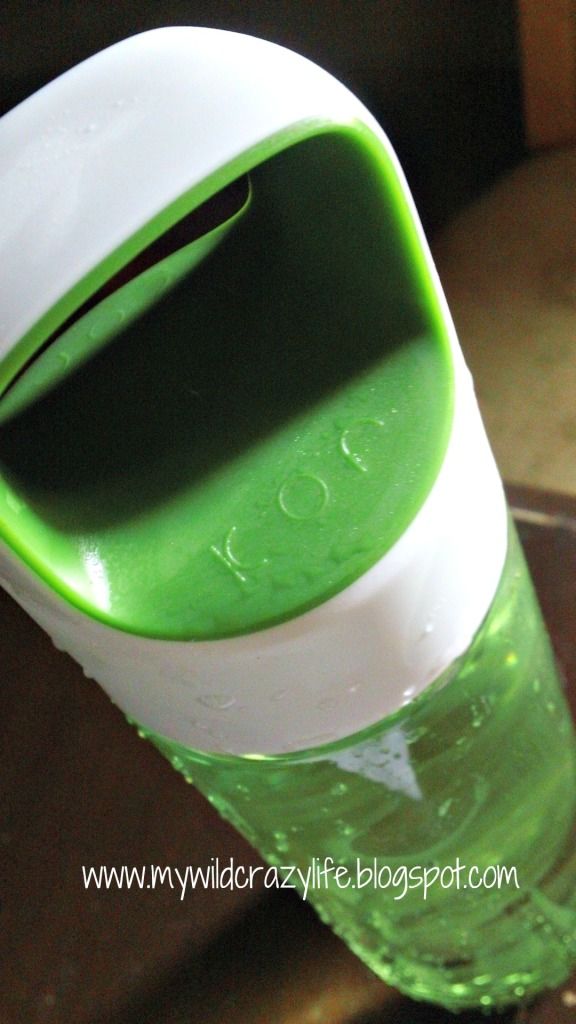 I have to admit I actually grudgingly gave my husband this vessel because it is so cool. I love the color, love the feel of it, and yes, I love how the spout feels on my lips. The price is right too at right under $15 for this vessel, so it is definitely something I would recommend to others. They also carry several other vessels to choose from and they even sell Eboost and Nuun which can be added to your water!
You can grab a
Kor Hydration Vessel
of your very own or read more about their charitable causes on the website as well as
Facebook
and
Twitter
. I am thrilled to tell you that Kor has graciously offered one My Wild Crazy Life Reader a Kor Aura Hydration Vessel of their very own!
You can enter the Giveaway here
!
Disclaimer: Many thanks to Kor for the product(s) I received to facilitate this review. I was not required to write a positive review. All opinions expressed in this review are honest and my own. I am disclosing this in accordance with the Federal Trade Commission's 16 CFR, Part 255. Please do your own due diligence when making decisions on purchasing something.