A few days ago I shared a company with you a company,
Green Valley Organics
that offers a lactose free solution to things such as yogurt, kefir, sour cream, etc. They believe in ethical treatment of animals, love for the planet, and all while bringing peace to our tummies and happiness to our tongues!
You can read more about them and find their other wonderful products on the
Green Valley Organics
website,
Facebook
, and
Youtube
.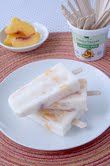 The kids really enjoyed the Strawberry-Lemonade Swirl Yogurt Pops we made out of the products, and they never knew they were eating healthy yogurt instead of ice cream! You can grab the recipe here and try them for yourself!