Although we are striving to eat healthier in our home, the one thing that never changes is my children's love for ice cream! This is a treat we only enjoy on birthdays or while on vacation, and they love every single lick! As a mom, I am always looking for ways the kids can get their "ice cream" fix without all the guilt, especially during July which is not only the hottest month for us, but coincidentally National Ice Cream month as well!
I have the perfect solution that is both healthy and lactose free: Green Valley Organics. Green Valley Organics has a Certified Humane program which meets the gold standard for treatment of animals. As a life long animal lover, this is an issue that is near and dear to my heart, and very important to me that I pass down to my children! Additionally, Green Valley Organics brings peace and love to people: peace to lactose intolerant bellies, and love to the planet by always utilizing certified organic processes!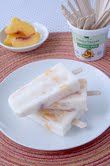 I was blessed to receive a generous package from Green Valley Organics, and since this in celebration of National Ice Cream Month, we decided to make the Strawberry-Lemonade Swirl Yogurt Pops!
Strawberry-Lemonade Swirl Yogurt Pops
1 lemon

1/2 cup water

1/2 cup sugar

3 (6 oz.) Green Valley Organics Strawberry Yogurts

1/2 cup Green Valley Organics Plain Kefir

1 1/2 cups fresh or frozen strawberries

2 Tbs. honey or agave nectar

2 Tbs. warm water
Peel the lemon, reserving the whole lemon for later use. Place the peel in a saucepan with water and sugar. Bring to a boil, turn down to a simmer, and stir occasionally until the sugar dissolves, about 5 minutes. Allow to cool to room temperature. Strain and refrigerate until needed.

Put yogurt and kefir in a blender; add chilled sugar syrup and blend until smooth. Pour into a liquid measuring cup.

Rinse out blender, add strawberries, honey and water. Pulse until smooth.

Pour the yogurt mixture into each of the molds, about two-thirds full.

Top the molds off with the strawberry puree.

Using a wooden skewer, poke the strawberry puree down into the yogurt mixture, swirling as you move the stick up, down, and around in the mold.

Tap mold gently to release any air bubbles.

If using a conventional mold, place the top on the pops and insert sticks. Freeze until solid, about 3 to 4 hours. If using cups, glasses or unconventional molds, freeze until pops just begin to set, then insert the sticks, and freeze until solid.
Needless to say these were huge hits with the kids after playing in the heat all day, and they never even knew how healthy they were for them!
I give Green Valley Organics the My Wild Crazy Life Seal of Approval because they are Certified Organic, Certified Humane, and offer lactose free dairy options! You can read more about them and find their other wonderful products on the
Green Valley Organics
website,
Facebook
, and
Youtube
.
Disclaimer: Many thanks to Green Valley Organics for the products I received to facilitate my review. I was not required to write a positive review. The opinions expressed in this review are honest and my own. I am disclosing this in accordance with the Federal Trade Commission's 16 CFR, Part 255. Please do your own due diligence when making decisions on purchasing something.