As a mom of four, you can imagine that games are a typical fun activity in our home. We enjoy everything from board games, card games, outdoor games, video games, and we love tabletop games. We even used to own an air hockey table, but due to space we had to downgrade.
Playmobil is the maker of many of the toys we have grown up with, know and love. I am especially proud to be sharing them with you because they are a contributor of The Toy Bank which provides toys for children who would otherwise not receive any at all. This is something especially near and dear to my heart. We helped out a family 3 years ago who got laid off right before Christmas and bought the child's Christmas. We were paid off 10 fold when she exclaimed "I just knew Santa would bring me toys!" It is so sad to think of children who do without right here in our own country!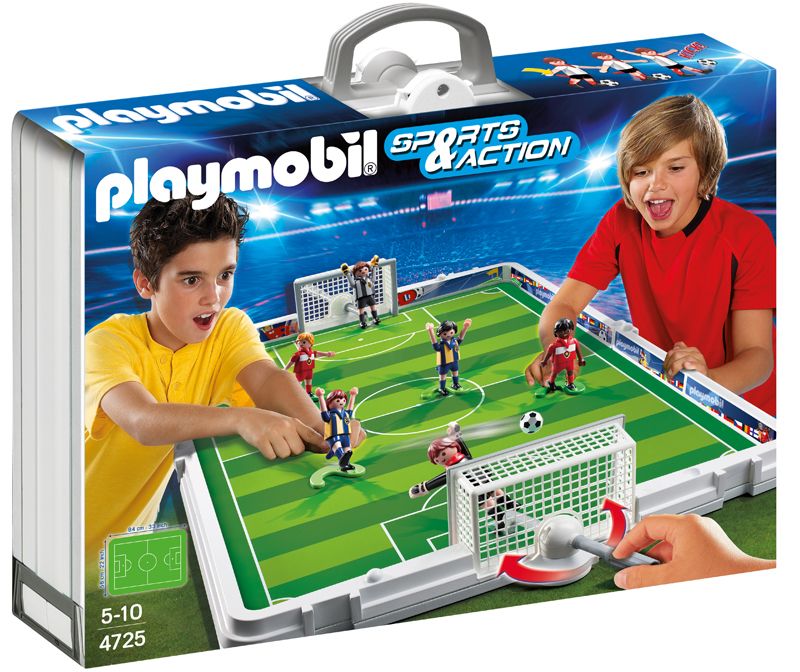 My son had a friend for a sleepover last weekend, and I decided it was the perfect time to try out our new Playmobil Take Along Soccer Match. I let the kids put the game together, stickers and all, and they had a large time figuring out how to attach the little men to the soccer goal, and their stands.
I love that the arena has sponsor stickers like a real arena does! The little players have a leg that kicks the ball, and the kids were all giggles as they took turns playing the game! I knew the game was a true hit when they pulled it back out the following morning before breakfast. Usually they wake me up with "Mom, I'm starving what's for breakfast?" instead of game playing! The best part is that the game folds up into a rectangular box that holds all of the piece so it stores well and can be taken to play anywhere.
Playmobil has this and so many more fun toys, and you can stay abreast of all the latest happenings via Facebook and Twitter.
You can also win one of your very own!! Simply complete one or more options on the Rafflecopter to be entered!
Disclosure: The information and gift packs have been provided by PLAYMOBIL USA through MyBlogSpark
a Rafflecopter giveaway