Remember the old adage An Apple A Day Keeps The Doctor Away? I have enough apples for a year! Friday, a neighbor stopped by and told us we are welcome to as many of the hundreds of apples on their trees as long as we pick them. So, we ended up with a little over 2 bushels in a couple of hours of picking.
The pictures you see here are after we have peeled, sliced and cooked two large crockpots and an industrial sized stock pot full. This is time consuming because each apple has to be peeled, cored, and sliced. Next year I am buying a peeling machine. I cook my sauce down until the pot is only half full, and it made 8 quarts of chunky apple sauce.
I also have put up 11 pints of apple butter and the recipe is below.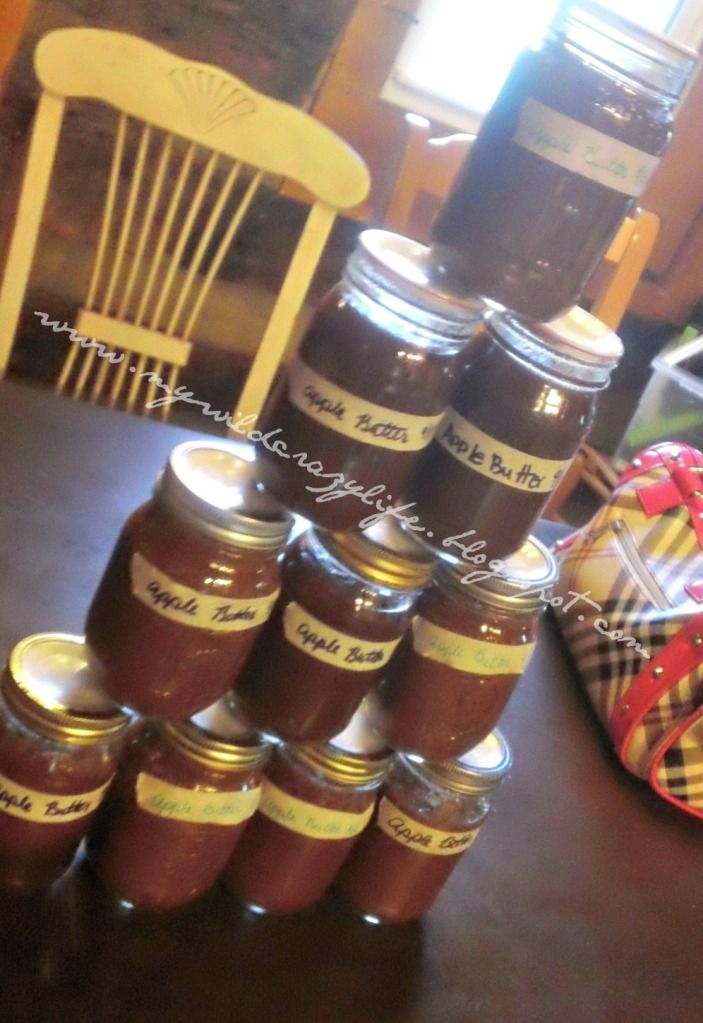 Allyson's Crock Pot Apple Butter
Thinly slice peeled/cored apples. Fill and pack an electric crockpot putting in as many apples as you can squeeze in. Do not add water
Cook for 18 hours on low, DO NOT LIFT THE CROCK POT LID
After 18 hours, stir the apples and add in the following ingredients
*Note: Be sure to taste your apples and adjust sugar. Tart apples may take a little more while sweet apples will take less sugar
4 Cups of Sugar
3 tsp cinnamon
1/4 tsp cloves
Pinch of Nutmeg.
Stir again really well, cover and cook for 4 more hours on low heat in the crock pot. DO NOT LIFT THE LID UNTIL 4 HOURS IS OVER
Pack immediately into hot sterilized jars and process in a boiling water bath for 10 minutes. Remove from pot, and when the jars are cool, check for a seal on the jars.