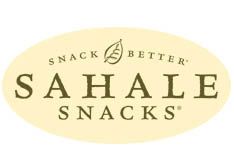 I am a snacker, and I always have been. If you don't see me sitting down to a meal, never fear, I likely have been noshing on everything from crackers, cheese, eggs or so much more. If it can be picked up and eaten, that's my kind of food! Now, if I can incorporate my favorite snack food into something I can bake, then we have what I call food utopia!
I recently was able to try a new snack food by Sahale Snacks called Sahale Crunchers, and I am in love. They actually were created out of need as many great products are: to use the same energy boosting foods found in stale seeds and nuts, but create something very tasty. Not only are these things addictive straight out of the bag, there are so many great recipes I can add them to! Because we have no snacking will power in this home, the Parmesan Cheese and Herb Sahale Crunchers just didn't make it to a recipe. No sir! They were gobbled down by four little hungry tummies who were of course helped by good ole dad!
The other two flavors: Cranberries, Sesame Seeds & Honey and Cherries, Apples & Maple were made into a wonderful breakfast which we of course enjoyed for supper.
French Toast


1 loaf sourdough or French bread
8 large eggs
2 c. whole milk
1/2 c. heavy whipping cream
3/4 c. sugar
2 Tbs. vanilla or almond extract




Topping



1/2 c. all-purpose flour
1/2 c. firmly packed brown sugar
1 tsp. cinnamon
1/4 tsp. salt
1 stick cold butter, cut into pieces
4 oz. pkg. Cherries, Apples + Maple SAHALE CRUNCHERS™



Grease 9 x 13-inch baking pan with butter. Cut bread into 1" cubes and evenly distribute in pan. Add eggs tobowl and whisk. Add milk, cream, sugar, and vanilla. Whisk well until mixture is combined. Pour over bread.Cover tightly and refrigerate overnight.
In a separate bowl, mix flour, brown sugar, cinnamon, and salt. Add butter and combine with dry mixture withfork until well combined. Add SAHALE CRUNCHERS™ and mix, be careful not to break up the almonds. Cover and store in the refrigerator.
When you're ready to bake the French toast, preheat oven to 350° F. Remove pan from the refrigerator andspread topping evenly over the top. Cover with foil and bake for 25 minutes. Take foil off and bake for another20 minutes until puffy and golden. NOTE: Do not remove foil cover too soon or almonds may burn.
Serve with butter and maple syrup.
*Because my mother in law was here and she is diabetic, I substituted the flour for whole wheat flour and the sugar for Splenda. I also used skim milk in lieu of the whole milk to make the dish lighter, but I did stick with the heavy cream so that it would thicken properly.


I made a second French Toast with the Sesame Seeds, Honey, & Cherries Sahale Crunchers and it was equally as good. This is such a great treat that it reminds me of a bread pudding minus the cream on it. I enjoyed mine without syrup because I thought it was plenty sweet enough, but it was such a great hit, they were asking for leftovers for breakfast the following day!

Sahale Crunchers has this and many more excellent recipes, and you can stay up to date with their latest promotions on Facebook.