My three year old Mika is just really enjoying Halloween this year. Every time we run to a store, we have to spend a half hour browsing the costumes, scarecrows, and checking out all the decorations! So, I would be remiss if I didn't cherish these moments further by having fun food and crafts the kids can help with to make it even more special this year.
I have two "recipes" to share with you this week, and honestly, ANYONE can make them. The one recipe is out of a family recipe and is homemade, but you can easily substitute store bought if you don't bake, or simply don't have the time. You can trust that kids don't really discriminate when it comes to desserts!
Spider Cupcakes
1 batch of Chocolate Mayonnaise Cupcakes *recipe below
1 double batch of Cream Cheese icing *recipe below
18 Oreo Cookies
6 Twizzlers pull and peel licorice sticks
Fill a gallon zipper bag with icing, and squeeze all the icing down in one corner. Snip off the corner about 1/4 inch. Ice the cupcakes icecream style swirling the icing 2-3 times to be pretty.
Snip each licorice stick into 3 equal pieces and peel the strands apart. Lay 8 pieces of licorice on each cupcake in the form of spider legs.
Top each with an Oreo cookie which is the spider. You can pipe on eyeballs if you wish!
Grandma's Chocolate Mayonnaise Cupcakes
The mayonnaise is simply replacing the oil and eggs in a normal recipe!
3 cups of self rising flour
1 1/3 cups sugar
1 1/2 cups mayonnaise
1/3 cup unsweetened cocoa powder
1 1/2 cups whole milk
2 tsp vanilla
Sift together the Flour, sugar and the cocoa powder to get out any lumps. Stir in the Mayo. Gradually stir in the whole milk and vanilla until the mixture is smooth. Either spray your muffin tins or use paper inserts (I spray) and fill with a 1/4 cup measuring cup. This is the perfect size to fill a regular muffin tin. Bake at 350 for 20 minutes or until a toothpick comes out clean.
Cream Cheese Icing
2 sticks of butter, at room temp
2 packages of cream cheese (16 oz) at room temperature
2 tsp vanilla
4-6 cups of powdered sugar
With your mixer, mix the cream cheese and butter until smooth and creamy, about 3 minutes. Add in vanilla and mix well. Then gradually add the powdered sugar in until you like the thickness of the icing. Weather and humidity affect things like candy and icing, so you may need more or less each time you make it.
Witches Brooms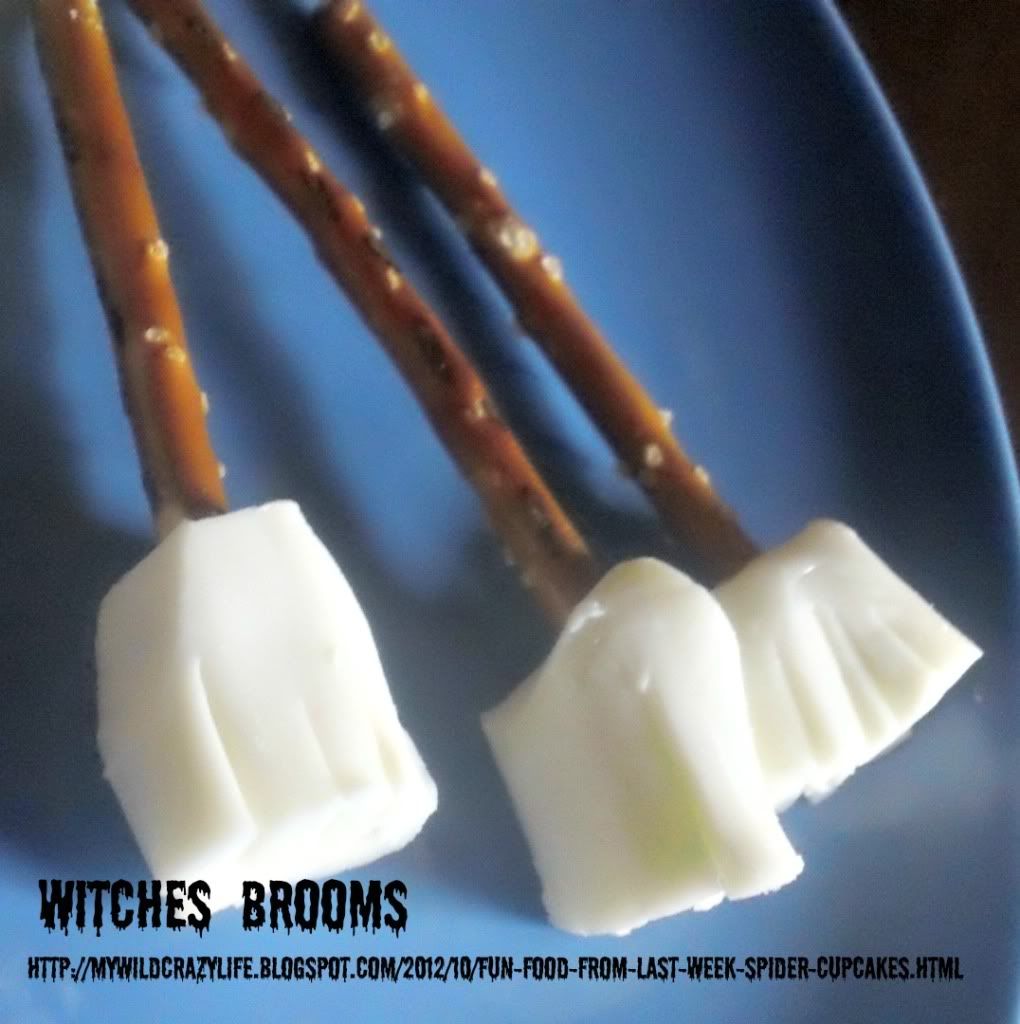 This is just a quick and easy snack item that the kids loved assembling and eating!
I took thin pretzel sticks and cheese sticks to make these.
Cut each cheese stick into four equal parts
Fray the ends like a broom, and insert pretzel stick into the opposite end like a broomstick.
Fly away or eat!