We have really been enjoying the Halloween season to the max here at the My Wild Crazy Life household. My youngest is 3.5 years old and he is so in love with everything Halloween so we are cherishing these times. The girls don't mind either, because they are having such a great time helping me do fun things.
Today for Tasty Tuesday, I want to share with you how to make Halloween Hot Dog Mummies and Severed Witches Fingers which are sure to wow any crowd, old and young! These would even be perfect party food for a grown up Halloween party. My pictures show that I had a lot of help from my kids making these. While the pictures look like a child made them, you know we had a blast, and you get the idea of how it works!
Halloween Hot Dog Mummies
1 sheet of puff pastry, thawed (note, there are two sheets of puff pastry in each package, I used one sheet for 8 hot dogs)
1 package of Hot Dogs
Mustard
With a pair of cooking sheers, cut the pastry sheet into 1/4 inch strips, horizontally (the side that is the longest)
Take the strips and wrap the hot dogs mummy style, leaving a small area at the top of the hot dog for the eyes.
Bake at 350 for about 15 minutes or until the pastry is golden brown.
Using a bottle of mustard, place two dots to resemble the eyes and serve!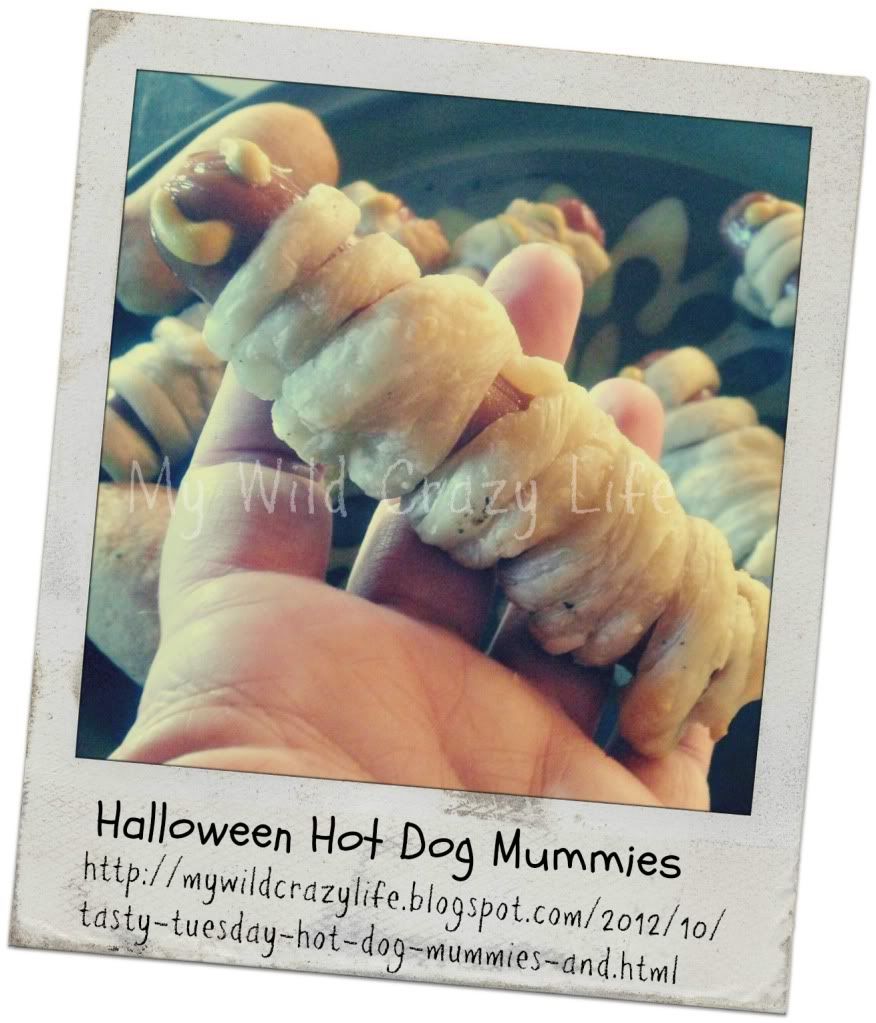 Severed Witches Fingers
1 package of jumbo sized crescent rolls
1 jar of marinara sauce
1 red bell pepper
Take the crescents and separate into 8 individual triangles, and cut in half making 16 pieces. Shape each piece into a "finger" shape, and make an indention at the tip with your thumb.
Cut the red bell pepper into 16 finger nail shapes (There will be left over bell pepper) and press into the indention you made with your thumb.
Bake as directed on the package of crescent rolls.
Serve in a bowl of warmed marinara sauce to look like severed witches fingers!