Thursday, August 16, 2012



You can win either a Raggedy Ann or Raggedy Andy by completing one or more options on the Rafflecopter!



As a little girl, I remember how much I loved playing with my baby dolls. We got one every year for Christmas and our birthday, so I had quite the collection, let me tell you! Two of my favorites were my Raggedy Ann and Andy! I had a set of them, and then I had a life-sized Raggedy Ann. I remember all the hours I played with them, and even lining them up along with my other dollies to sleep with at night!
I have shared some great toys with you before from Aurora Co:
Yoohoo
and Friends, and the
Crinkle Toys
that are perfect for little ones as well as older children. They really do make such awesome toys. The proof is in the pudding every single time my two youngest fight over them which is almost daily, but that is another story altogether!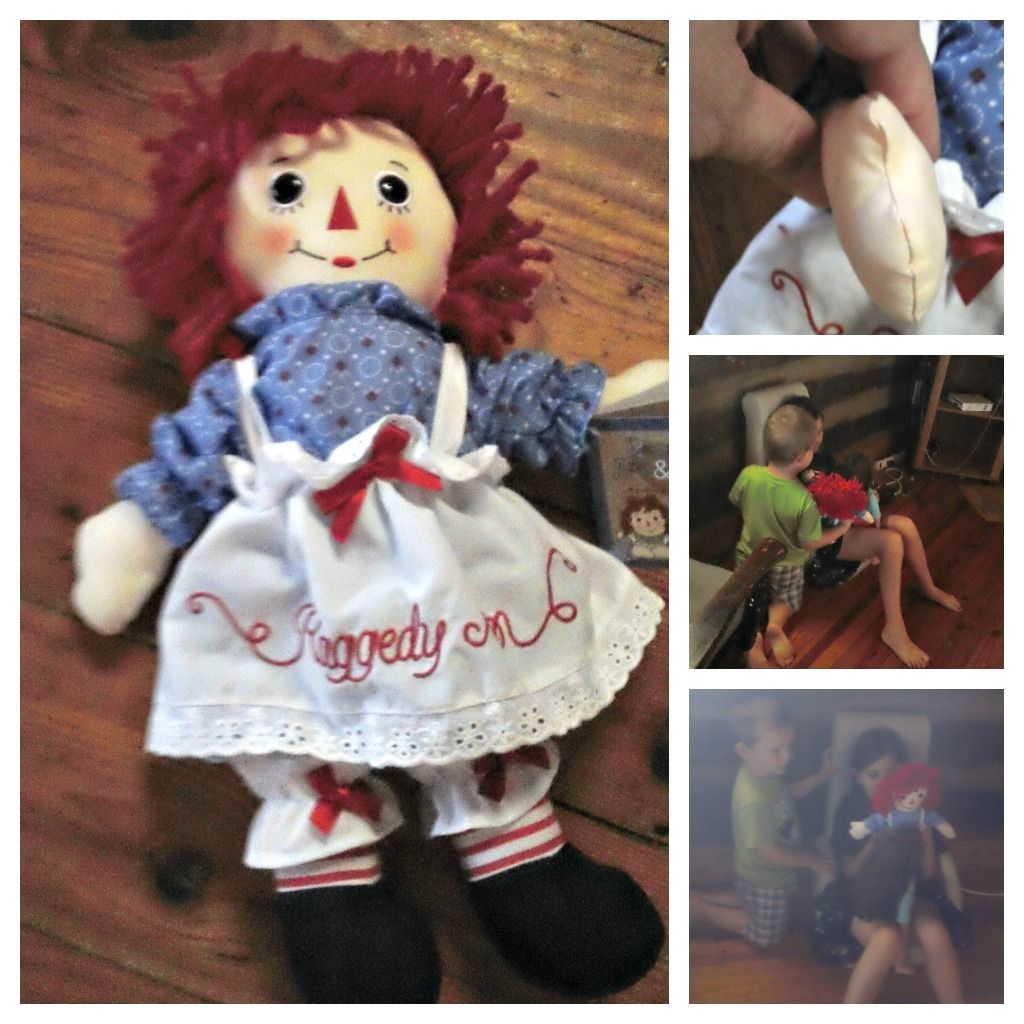 I was just pleased as punch when I found out that Aurora Co has revived my favorite toy: Raggedy Ann and Andy, and I almost cried as I held Ann for the first time out of the box because she is everything I remember and more! When I received Raggedy Ann, I intended her for my 8 year old daughter, but my 3 year old son Mika fell in love with her, so he won this round since the other two Aurora Co toys are hers.
She has the traditional red yarn hair, her name embroidered on her apron, and two beautiful bows on the front of her outfit. Mika immediately grabbed her, hugged her and ran off to play "Mommy and Daddy" with his sisters and their dolls. Raggedy Ann has proved quite useful in our home as well as fun. We have attachment parented Mika as we did my other three children, and most nights he returns to my bed to
put his piggy toes in my face
cuddle. Every since we received Raggedy Ann, I have put her in his arms next to his face at night, and he sleeps in his own bed until about 4 am! Not sure if I am thrilled that my hair feels like yarn, but it works, and I am thrilled!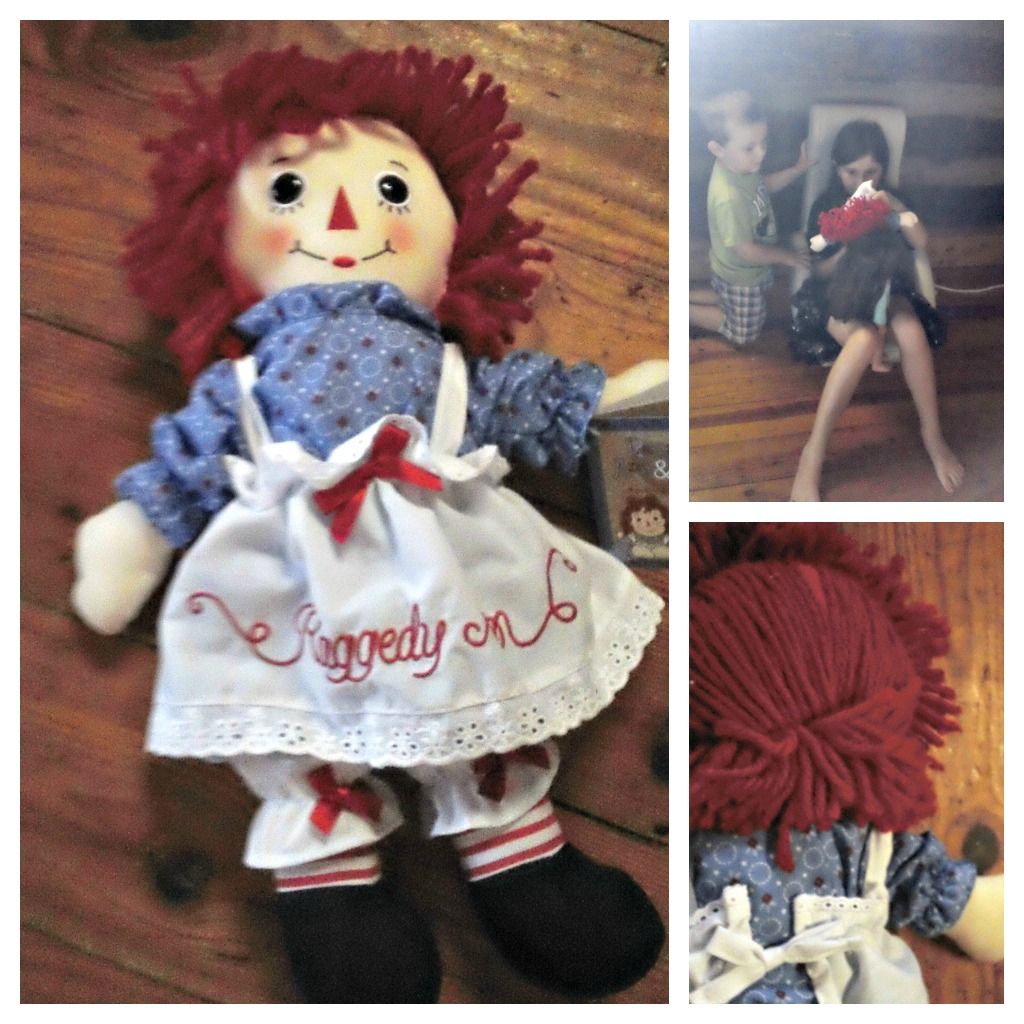 I have yet to find an Aurora Co toy that isn't well made, endures lots of toddler love without ripping apart, and so far they are all washable including Raggedy Ann! These dolls come in 8", 12", 16", and 25" and later this year there will be special Holiday edition dolls that I can't wait to get for my girls for Christmas!
The holiday styles to join the line later this year are The Raggedy Ann "Chilly Chic" and "Santa's Helper" and Raggedy Andy "Chilly Chic" and "Santa" which are all 16 inches!
Head on over to the
Aurora World Website
to get in on all the fun. I promise your kids will love this site! They have every stuffed animal imaginable! You can also access them on Facebook and Youtube!
If you would like to win a Raggedy Ann or Raggedy Andy of your very own, then please head on over to the Rafflecopter to enter
HERE
.
Disclaimer: Many thanks to Aurora & Co for the product I received to try. I was not required to write a positive review. The opinions expressed in this review are honest and my own. I am disclosing this in accordance with the Federal Trade Commission's 16 CFR, Part 255. Please do your own due diligence when deciding to purchase!

Mom Powered Media proudly presents the Nexus 7 Giveaway!
Thin, light and portable the Nexus 7 was built to bring you the best of Google in a slim, portable package that fits perfectly in your hand.
With a stunning 7" display the Nexus 7 brings your entertainment to life in stunning clarity on a vibrant 1280-by-800 high-resolution display protected by scratch resistant Corning glass.
With over one million pixels in your hand, text is sharper, HD movies are more vivid and gameplay is smooth and dynamic.
Less charging, more doing With over 9 hours of HD video playback, 10 hours of web browsing or 10 hours of e-reading and up to 300 hours of stand-by time, Nexus 7 is designed to go the distance. Whether you measure battery life in chapters read, levels completed, movies watched or minutes of backseat silence, you can spend less time charging and more time doing.
Designed with gaming in mind Nexus 7 was designed with gaming in mind. With heart pounding quad-core performance and sensors like a gyroscope and accelerometer - do a barrel roll then tilt, touch and tap your way to the top of the leaderboards while exploring over 600,000 apps and games available on Google Play.
Quad-core performance Nexus 7 was built by ASUS and comes with a NVIDIA® Tegra® 3 quad-core processor, meaning everything is faster - pages load quickly, gameplay is smooth and responsive, and running multiple apps is a breeze. A 12-core GPU delivers rich and immersive graphics while patented 4-PLUS-1(tm) CPU design gives you processing power when you need it, and battery saving efficiency when you don't.
The world's most popular platform Nexus 7 is powered by Android 4.1, Jelly Bean, the latest version of the world's most popular mobile platform. With smarter notifications, beautiful new widgets and home screen customization that's as easy as drag-and-drop - Android is faster and more intuitive than ever.
One lucky winner will receive a Nexus 7 Tablet (8GB).
Giveaway ends September 6th at 11:59pm, open to US and Canadian residents, ages 18+. To enter please use the Rafflecopter form below. Good luck!
Tuesday, August 14, 2012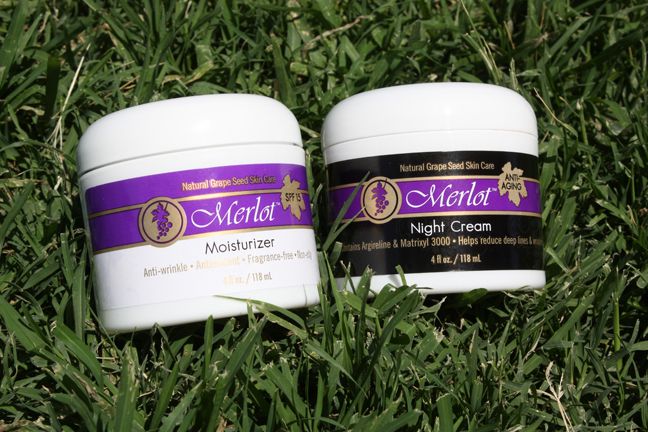 For the very first time EVER, Merlot Skin Care is offering free Gifts with Purchase! Right in time for Back to School Shopping, you can get a
FREE
Merlot Lip Moisturizer and a travel sized Merlot Moisturizer with every purchase over $25!!! Not good enough for you? Okay, how about
FREE SHIPPING
(USA only)? I am pretty sure I just heard a "sold" from somewhere!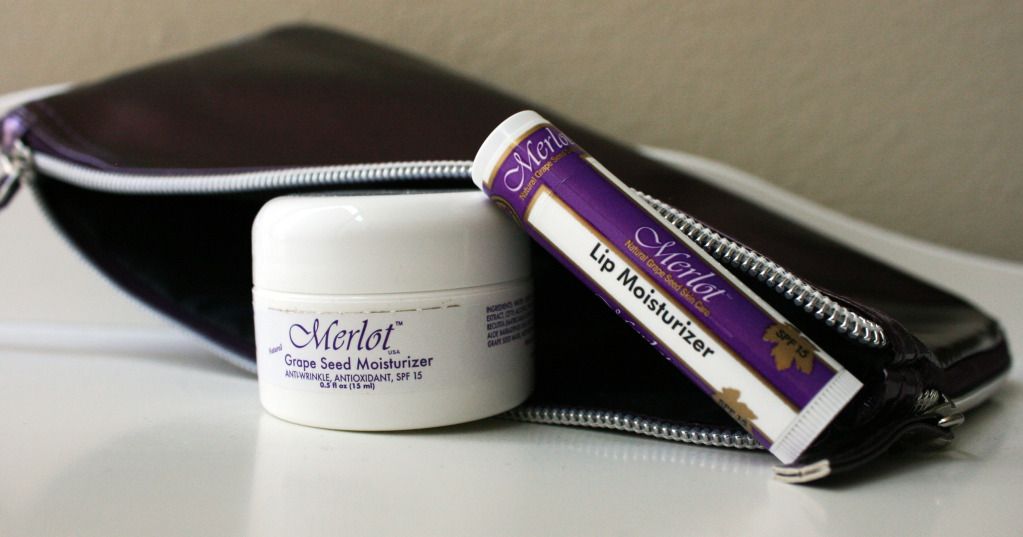 Hey, I have to buy skincare, so why not do so when I can get some free products at the same time? Yes, Please. Show me where to sign up! This offer is good through the end of August so hurry over to
Merlot Skin Care
,
Facebook
or
Twitter
and found out what great products you might be able use to get your free products!
Disclaimer: This is a non-sponsored post. I didn't receive any product or compensation of any kind to post this. I am sharing this great deal simply because I choose to, and all opinions are my own. Please do your own due diligence before you decide to purchase from company.
I officially started with Nutrisystem last Sunday: One week and two days ago.
What I discovered this week is how bad my habits have become over the years. Most days, I literally eat once a day: Supper time. I have had to learn a whole new way of thinking about food. It's my friend and I can eat it, often, and in what I consider to be large quantities. For example, four vegetables and one fruit a day is a lot of food, but it is fueling my body. I haven't had caffeine in over two weeks, I am eating three meals and three snacks a day, exercising at least 4 days a week and I feel good.
Sure, some moments have been harder than others. There are times I feel so hungry, and other times I am not hungry when it is time to eat, yet I do so anyways. And guess what? I started off weighing 276.8 and I have lost to 271.8!! That's a total of 5 lbs lost, and I couldn't be more pleased! After about day four, it got easier. My cravings for the food I am used to eating were less, and the constant "mental" hunger was less as well.
I still have temptations, and thus far I haven't given in. I was afraid to weigh myself, because I had to eat out last night while travelling. However, I made the healthiest choices I could make, and didn't overeat, and I still lost weight. It's all about moderation and smart choices. Today, I started right back on my Nutrisystem food, and I am determined to give it my all today! I want to leave you with my beginning and current stats.
August 6, 2012
Upper Arms:
15.0
Chest:
49.8
Waist:
54.0
Hips:
59.0
Thighs:
23.6
August 14, 2012
Upper Arms:
15.0
Chest:
48.5
Waist:
53.4
Hips:
58.0
Thighs:
21.9
Want to lose weight and get healthy on Nutrisystem? Join today by calling
1-888-853-4689
or by visiting
Nutrisystem
*Nutrisystem is providing me with 4 months of free food and support service as part of the Nutrisystem Nation Blogger program. In exchange, I will be posting each week with my progress. All thoughts expressed are my own, and my experience using the system may vary from that of other participants.*