We were blessed with a good garden this year so it is time to be putting up vegetables to be enjoyed throughout the winter.
Keep in mind that the steps I wrote out are detailed so that even someone who has never canned could follow them and succeed in canning. Even though the recipe looks like it's really hard to can, it really is super easy. The key to successful canning is to make sure you sterilize everything with boiling water (or a very hot dishwasher) before you begin. Clean is the key!
Mama Dee's Organic Green Tomato Relish:
35 medium organic green tomatoes
(use at least 45-50 if they are small)
6 large white onions.
(NOT Vidalias, those are too sweet).
6 Organic Bell Peppers: 3 green, 3 red (you could use all green and it will taste the same, but the red is for color in the relish)
6 cups of sugar
, coconut sugar, or whatever healthy sugar choice your family uses. I use Coconut Sugar mostly but I admit I used raw sugar on this because of the price for so much Coconut sugar.
3 TBS Mustard Seed
3 TBS Celery Seed
2 TBS Turmeric
2 1/2 cups of apple cider vinegar
Prep the vegetables: Wash them, core the tomatoes, take the seeds out of the peppers, and take the skins off the onions.
Cut the veggies into pieces that will fit in the shoot of your food processor. (if you don't have a food processor you have a long day ahead dicing veggies. Have fun!) I used a $19 food processor my mom found at Walmart that has one speed: go. It worked just fine for this.
When the processor bowl is full, dump the contents into a large stock pot (I used a huge spaghetti pot) and continue on with the veggie prep.
When all the veggies are done, add in the spices and vinegar, and simmer over medium heat for 30-60 minutes until most the broth is cooked down, and all you have left is relish. (My camera isn't the best in the house with artificial lighting, but you can see the consistency of the relish in this picture. I know it looks reddish, it's not-it's green).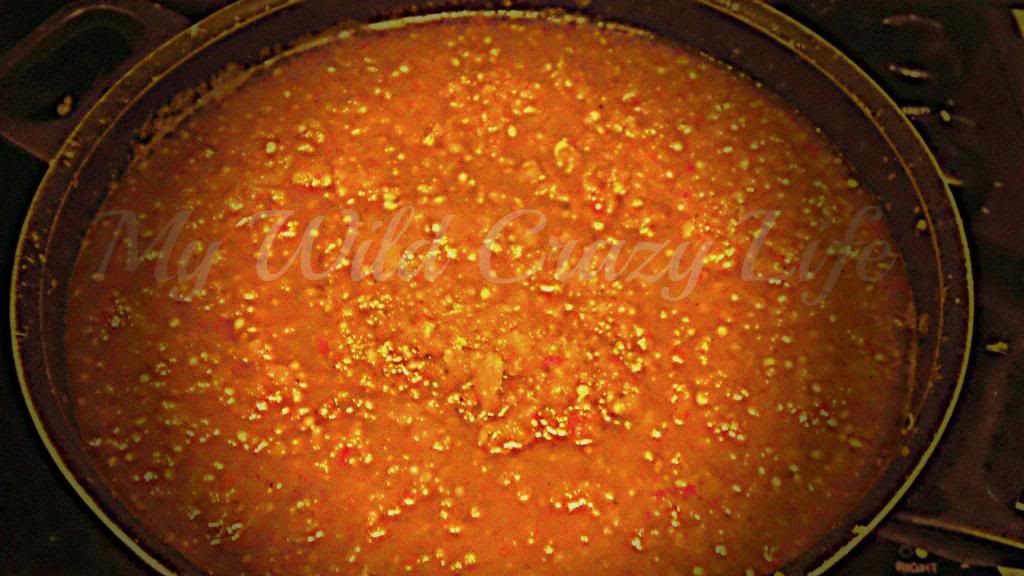 I ran all of my canning utensils, jars and Tattler Canning Lids through the dishwasher to sterilize them while the relish cooked. (Tattler Canning Lids are canning lids that you can use repeatedly and last for many years if you care for them properly. You can read more about them here. They are singularly the best item I have ever bought for my canning needs. I am on my 3rd canning session with some of the lids, and they are sealing as good as ever!)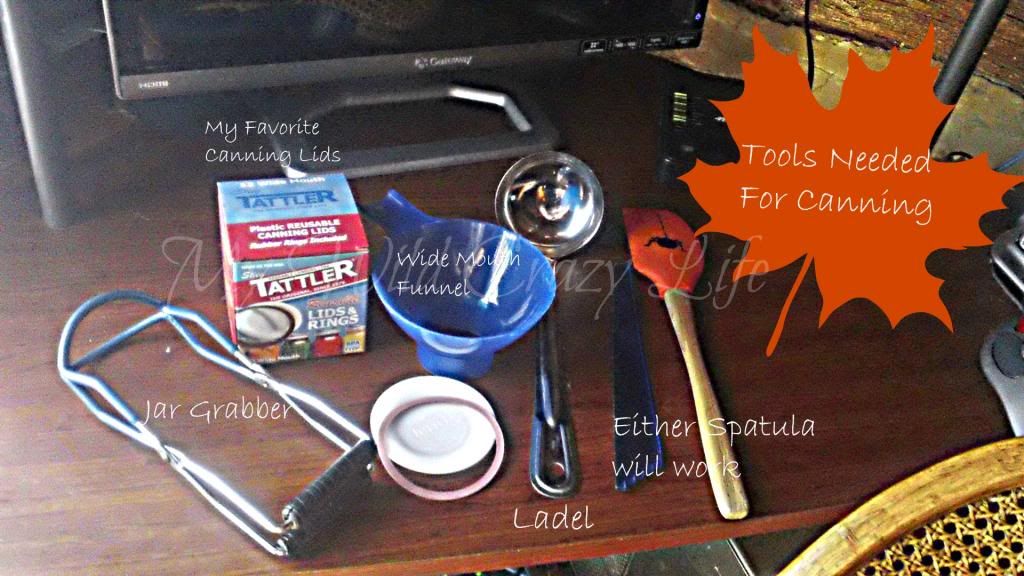 Bring a water bath canner or huge pot of water to boil. I have a pressure canner, but I don't have a water bath canner, but I do have a 60 gallon stock pot, so I use it for canning. Any pot that is large enough to cover the jars in boiling water will do.
My jars were piping hot from the dishwasher, but if you sterilize them with boiling water, leave them in the water until you are ready to fill your jars with the hot food.
Fill your jars with hot relish, leaving 1/2 inch head space at the top. Use a sterilized large mouth funnel so you don't get food on the rim of the jar. If you do, wipe clean and dry with a fresh clean cloth before adding the lids
Use your tool or a rubber spatula and run around the inside of the jar to get rid of any air bubbles.
Put the lid on the jar (rubber ring and lid if using Tattler's) and screw the ring on, but don't screw it tight. It should feel like you need to turn it a time or two more.
Put the jars in the boiling water (make sure the boiling water covers the jars completely). If the temperature drops when you put in the jars, and it's not boiling, just bring it back up to boiling. When the water is boiling again, process for 15 minutes.
Remove the jars with your handy jar removing tongs, tighten the rings completely, and let sit. If you use regular lids, you will hear a "Ping" or "Pop" sound each time a jar seals. With Tattler lids you can still easily tell by pushing the middle. I pick take the ring off and pick them up by the lid to make sure they are sealed.
If you have a random jar that didn't seal, put it in the fridge for use in the next couple of weeks. I have only ever had one jar not seal in all my years of canning. It's rare.