F
or over a year now, I have been really upping our definition of healthy food here at the My Wild Crazy Life home. My husband has
been dragged along behind me kicking and screaming
willingly joined me on this journey, and we are finally to the point he didn't even bat at eye when we dropped close to four digits on our monthly grocery shopping excursion for a family of six this month. (We had to purchase a meat bundle from the local farm so this month cost significantly more than months that we already have meat in the freezer.)
P
art of this journey has been introducing lacto-cultured foods to my family. Some foods are just more readily accepted such as homemade cultured yogurt, homemade sour cream, Kombucha, Kvass, and bubbly pickles while others like lacto fermented carrots and sauerkraut they are still learning to like.
I
have discovered a cultured food that everyone in my family loves so I figured this is a great recipe for anyone looking to begin adding cultured foods into your diet. It is super easy to make, not too expensive, and so delicious that you will have to hide it from the kids to eat some!
Homemade European Cultured Butter
:
<Heavy Whipping Cream
(preferably from a local grass fed creamery, but store bought organic will do)
<Plain Yogurt with active cultures
(I used
my own homemade yogurt
, but you can buy store bought, just make sure it's plain and the carton says it contains live cultures. Again preferably organic.)
<Glass Jar or Glass crock
(not plastic, it harbors "stuff" that you don't want contaminating your cultures.)
<A mixer or Kitchen Aid
and whisk attachment
*The ratio of Cream to Yogurt is 3 Tablespoons of Yogurt to every cup of heavy whipping cream. I use 2 cups of whipping cream at a time, so that's 6 tbsp of yogurt with active cultures.
1. In a sterilized canning jar or glass crock stir together heavy whipping cream and Yogurt. Cover and let stand at room temperature up to 24 hours. This allows time for the culturing to happen. If it's high temperatures ( 80 degrees or higher in the house) I would only leave it out for about 12 hours.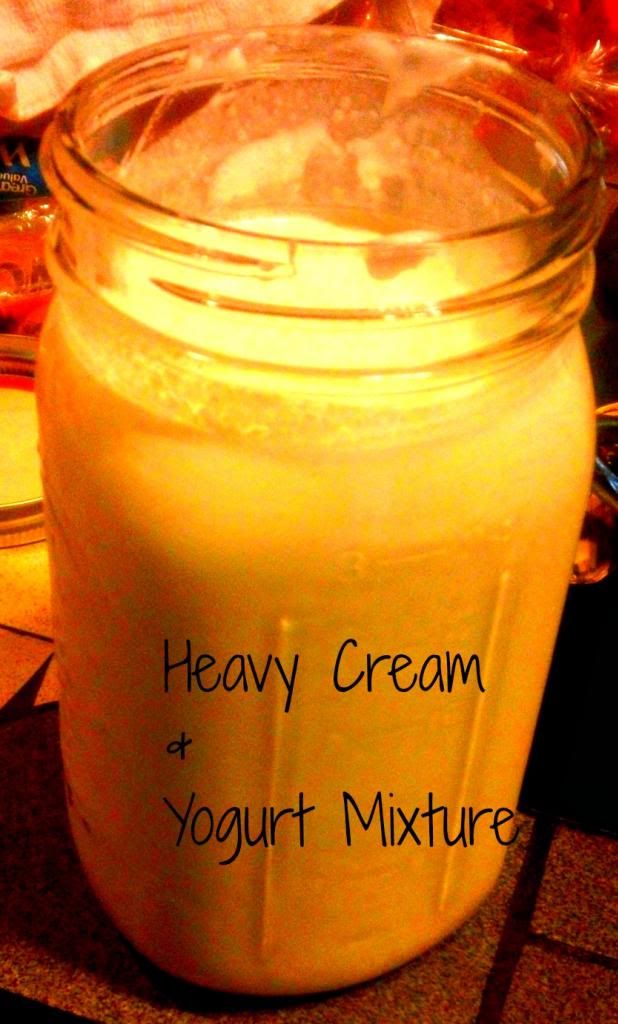 I
let mine sit 24 hours so it's worth planning ahead in order to always have fresh butter for your steel cut oatmeal in the mornings, or your sour dough bread at supper!
2. Pour the contents into the mixing bowl of your Kitchen Aid or a high necked glass bowl if you are using a regular hand mixer (Again
no
plastic
or
rubber
bowls please!)
3. Attach whisk attachment and whisk at low speed until butter has formed. I learned the hard way not to do it at a higher speed. When you first begin the liquid is very thick and doesn't splash. However, as the butter forms, it separates out the buttermilk which is very runny and splashed up my kitchen. Hey, my microwave and walls haven't been this sparkling in a while!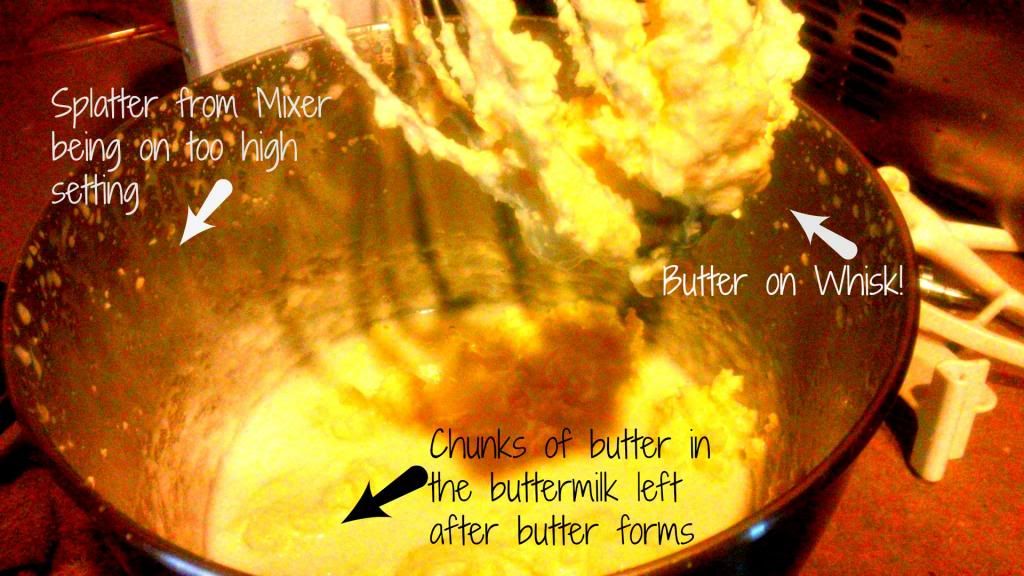 4. When it reaches the consistency of the above picture, pour through a strainer to separate the butter from the buttermilk.
5. Store the buttermilk in the refrigerator for other uses such as buttermilk biscuits, cornbread, any other recipes you have that call for buttermilk, or simply drink it.
6. You can now salt the butter for salted butter, or eat as is. Absolutely the most delicious butter I have experienced, and I have tried most commercial butters!
T

his is so tasty, and such a hit that the husband I mentioned dragging behind me asked what ingredients are in it so we can have homemade butter instead of commercial all the time. This is when I give an evil laugh and say, "I won!"
This recipe is included in
Kelly The Kitchen Kop's Real Food Wednesday Linky
. You can also check out more real food recipes listed there!